Pulled chicken burger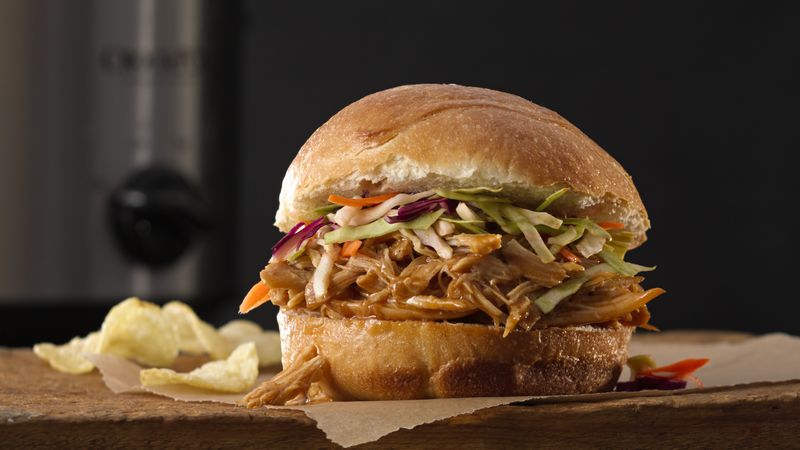 From kids to adults, who doesn't like burgers? Here is an easy and quick pulled burger recipe that is not just palatable and spicy but uniquely flavored in every bite. Try it and you'll be craving for more.

Ingredients card:

For chicken:

Chicken (boneless) 600-700 grams
Bar b q sauce 2 tablespoons
Salt 1 teaspoon or to taste
Paprika powder 2 teaspoon
Soy sauce 1 tablespoon
Brown sugar 1 tablespoon
Ginger garlic paste 1 tablespoon
Water 1 cup

For sauce:

Onion (chopped) 1 medium sized
Butter 2 tablespoons
Ketchup 1/4 cup
White vinegar 2 tablespoons
Red chili flakes 1 tablespoon
Hot sauce 3 tablespoons
Salt 1/4 teaspoon or to taste

For assembling:

Buns 8-10
Mayonnaise As required
Cheese slices 8-10
Directions:

For chicken:

Wash the boneless chicken thoroughly.

In a cooking wok, put in the chicken, bar b q sauce, soya sauce, paprika powder, brown
sugar, salt and ginger garlic paste.

Add some water and let it simmer for 15-20 minutes.

Once the chicken is properly cooked, shred it with the help of a fork and on high heat, cook it until all the water has dried out.

For sauce:

In a pan, add butter and throw in the onions. Cook until the onions turn light brown in color.

Now, add ketchup, white vinegar, salt, red chili flakes, hot sauce and mix well.

Throw in the cooked chicken and mix until the sauce has well blended with it.

For assembling:

Take buns, place them on hot frying pan and heat them up.

Put on some mayonnaise on each side, place a piece of cheese slice and top it with the chicken cooked in sauce. Place the other half on the top and serve with fries.

This pulled chicken burger recipe is hot, spicy and tempting!

Additional information:

This pulled chicken burger recipe creates 8-10 burgers and take hardly 30 minutes to prepare. Serve it with a tangy drink and enjoy your iftar.
Imli Alu Bukharay ka Sharbat Recipe

Imli (tamarind) and alu Bukhara (plum) when combined together make a super tangy drink that is refreshing, energizing and full of flavors. Here is quick recipe that will tempt you into making it all over again.

Ingredients card:

Imli (tamarind) 125 grams
Alu Bukhara (dried plums) 125 grams
Caster sugar ½ cup
Black salt (kala namak) ½ teaspoon
Ice cubes As required
Dried apricots (khobani) 250 grams (optional)
Water 2 cups

Directions:

Soak tamarind, dried plums and dried apricots in one cup water overnight.

Deseed them and add all the ingredients in a blend and blend well.

Strain, add water and sugar in the blended mixture and cook until the sugar dissolves

Set aside to cool down. You can store in it refrigerator for up to a month.

To serve, in a blender throw in some ice cubes, some cooked mixture, water if need be and blend.

Additional information:

This imli alu bukharay ka sharbat recipe makes 2-3 glasses and is very healthy. Prepare it for iftar and you'll be delighted to have tried it.